Trending Now: Top Products on Kohls.com
Women's Tops
Top off any look with a timeless women's blouse, shirt or top! When paired with a skirt, jeans, shorts or other styles of bottoms, the perfect shirt or top can create a complete look for any occasion.
Various types of tops are also well-suited for the different seasons, so you can find the right sweater for winter, tank top for summer, and versatile blouses for all other times of the year. With the right shirt, you will have the perfect piece to build a wardrobe that's uniquely yours!
Women's shirt styles
There are many different shirt styles available, ranging from traditional to trendy. All are sure to find a place in your closet and will be important when it comes to putting together your everyday outfits.
But some styles offer that little something extra. Let's take a look at a few styles of tops that will add a fresh look to your wardrobe.
| | |
| --- | --- |
| An off-shoulder top is a perfect warm-weather piece that leaves the skin bare between the sleeve and neckline. These types of tops, also known as cold shoulder tops, can be dressed up or down, offering versatility that is unmatched. | For even more of an on-trend summer look, try a crop top. Crop tops are cut short at the bottom hem, keeping part of the midriff exposed. The amount of exposed midriff also depends on the rise of the bottoms paired with a crop top. The higher the rise, the less exposure. |
| The simple style of a graphic tee cannot go unmentioned. Ideal on its own or as a layering piece, a graphic tee offers personality to your outfit, while keeping you comfortable all day long. | Looking for a top with a little more flow? A tunic might be just what you're looking for! With a bit more length than a traditional top, yet shorter than a dress, tunics are super comfortable and provide a modern, yet refined look. When paired with a smart pair of jeans, a tunic can provide a look that easily transitions from the 9-to-5 grind to happy hour. |
Top tips for layering
When you're looking for an ensemble that's sure to take your look to a whole new level, try to add multiple layering pieces to your outfit. Layering pieces can provide additional styles, colors, and patterns to your look. Layering can also make an outfit ideal for transitioning from work to play, so your outfit becomes even more versatile.
For example, layering a tee underneath a blazer, and matching the tops to a pair of dress pants can provide a stylish workplace look that will look great when meeting friends out for dinner, too. Layering tank tops are also sure to come into play when creating a multi-level look. These tanks come in multiple colors, guaranteeing you have the right top to match the rest of your ensemble. Solid tanks look great under a plaid-patterned, button-down shirt or blouse.
Other women's shirt styles
Some other types of women's tops to add to your wardrobe include hoodies and sweatshirts, which are must-haves for when you're relaxing around the home or heading out to run errands. Different types of sweaters, including cardigans and pullovers, keep you nice and warm when the temperature drops. Performance tops feature moisture-wicking material and are designed to keep you cool and dry during your workout routine.
Shirt fit guide
No matter which style of shirt you choose, you're going to want to know exactly which size top you'll need to look your best. With the help of the chart below, you'll be able to find the right size with ease.
Bust
Waist
Hips
Inseam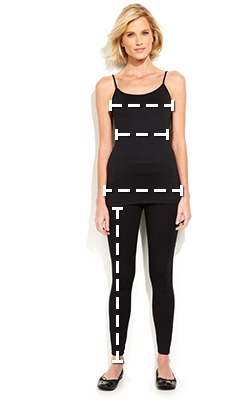 Measure Up
1. Bust
Using a tape measure, take a loose measurement over the fullest part of your bust.
2. Waist
Using a tape measure, measure around your body at the narrowest part of your waist. The natural crease your body makes when bending to the side also represents the narrowest part of your waist.
3. Hips
Stand with your heels together and use a tape measure to measure around your body at the fullest part of your hips and rear.
4. Inseam
Using a pair of pants that fit you best, use a tape measure to measure from the top inner thigh to the bottom of the hem.
Size Chart
Size
Bust
Waist
Hips
XS
2
33.5"
26"
36.5"
S
4-6
34.5-35.5"
27-28"
37.5-38.5"
M
8-10
36.5-37.5"
29-30"
39.5-40"
L
12-14
39-40.5"
31.5-33"
42-43.5"
XL
16-18
42-44"
34.5-36.5"
45-47"
XXL
20
46"
38.5"
49"
* Tall sizing is 2 inches longer in the length and sleeves.
Size chart is a general guide. It may include sizes that are unavailable for this item.
Note: the above size chart is a general guide. It may include sizes that are unavailable for certain items found on kohls.com.
You'll also be able to find shirts and tops in extended sizes, like petite and plus-size options, so you can feel confident when shopping for a new wardrobe option.
Rendered by nodejs server