How to Properly Set a Table for Any Occasion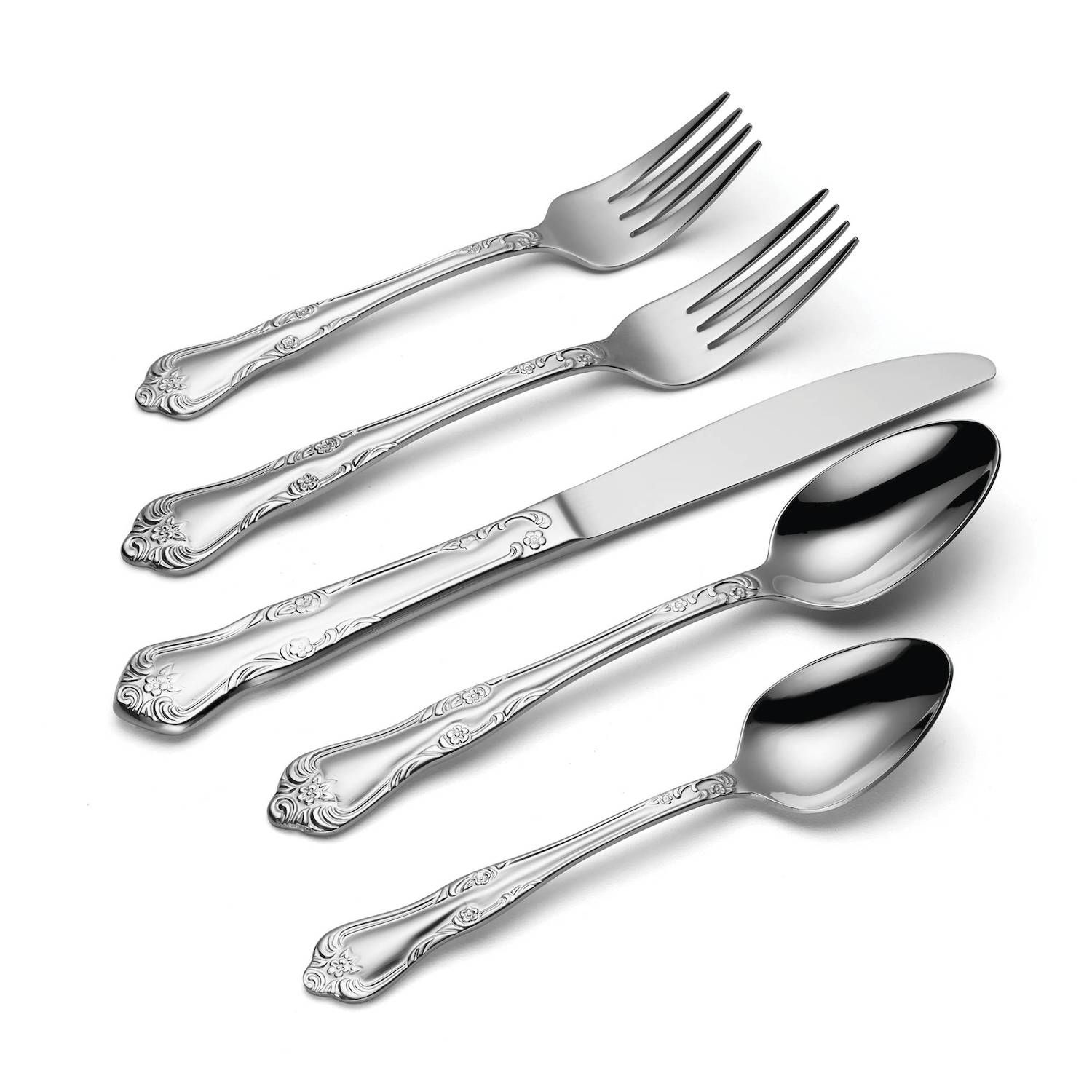 Whether you're hosting a casual luncheon or a formal dinner, it's always a good time to brush up on your table-setting skills. The art of table setting is actually pretty simple once you have the basics down. However, people often find that the more formal it gets, the more confusing it can all be. That's why it's important to pick a level of formality for your table that suits your style, the occasion, and the number of guests who will attend. Once you know where everything goes, you can add your own creativity by mixing and matching plates, adding elaborately folded napkins, or using colorful glassware.
Just knowing how to set a basic, casual and formal table should be enough for a lifetime of delicious meals with friends and family. No matter the occasion, you will have a perfectly set table every time!
The Importance of Proper Table Setting & Dining Etiquette
Dining etiquette stretches back over several centuries but the sharing of food over a communal table has been part of history. Although every decade brings sweeping changes, the customs of the table seem to prevail. Today, how you set a table creates the first impression at any dinner party. Dining with an appetizing meal may appear to be simple enough, but the process is filled with tradition and rules of etiquette. Many people pride themselves on impressive table settings for holidays, parties and all sorts of occasions. Some even participate in tablescape competitions!
Table Setting 101
Your place settings not only show your guests how much effort you put into the dinner but can also make your food look exceptional. But before we go through exactly how to set up a table for various occasions, there are a few tips and tricks you'll need to remember. This will help make it a bit easier to understand the reasoning behind why the serveware and silverware are placed on certain areas of the table.
The first and most basic rule is that utensils should be placed in the order of use, working from the outside in. They should be lined up with the rim of the plate. It may help to think of the plate as the epicenter of the meal. As the courses progress, guests will use the utensils farthest from the plate and work their way inward.
The second rule is that forks should be placed on the left side of the place setting while knives and spoons sit to the right of the plates. The one exception to this is that an oyster fork can be placed to the right of the setting if it is being used during dinner.
Finally, be sure to only set the table with silverware that you will be using. Don't set out a salad or appetizer fork if you won't be serving them.
It's important to remember that your table setting doesn't have to look perfect. All that matters is that you're able to create a welcoming place to dine with friends and family.
Setting a Dinner Table
How to Set a Basic Place Setting
The basic concept is fairly simple for informal lunches or dinners. There's really no need for frills in this case unless you want them. For laid-back dinners, one needs just a basic table setting: a placemat, cutlery (fork, knife and spoon), a dinner plate, a water glass and a napkin. Here's how to set it up:
Position a plate in the middle of the placemat.
Take a folded napkin and lay it to the left of the plate.
Put a dinner fork on top of the napkin.
Place a knife closest to the plate (blade pointing in) and a spoon to the right of the plate.
A water glass should be placed slightly above the plate, in between the plate and the utensils.
How to Set a Casual Place Setting
Maybe you're throwing a casual party or having a semi-formal dinner with friends. This casual table setting is ideal for large get-togethers with friends or meals with more than one course. You'll need a placemat, dinner plate, salad plate, soup bowl, cutlery (knife, fork, spoon) a water glass and a napkin. Here's how to set it up:
Position a dinner plate in the center of the placemat.
Place a salad plate or soup bowl (or both) on top if you'll be using them.
To the right of the plate, place the dinner knife (with the blade facing the plate), followed by a dinner spoon to the right.
Put the folded napkin to the left of the plate and place the fork on top.
Above the knife, place the water glass and an optional wine glass.
How to Set a Formal Place Setting
Elegant dinners or holiday feasts that include a three- or four-course meal follow the formal place setting process. The biggest difference between a casual table and a formal table is the use of chargers, also known as presentation plates. Traditionally, formal settings forgo placemats, but that's completely up to you. Some may prefer to use a circular placement under the charger. You'll need all of the previously mentioned items plus a few more supplies: a tablecloth, centerpiece, bread plates, wine glasses, butter knives and dessert spoons (or cake forks). Here's how to set it up:
Lay a tablecloth on the table with a charger at each seat.
Place a soup bowl in the center of the charger and a bread plate to the top left of the charger.
On the left side of the charger, put a napkin down then a dinner fork on the inside, and a salad fork on the outside.
The right side of the charger should have a knife with the blade facing inward.
Place the water glass directly above the knife's point on the right side and your wine glasses near the water glass.
The bread plate should be at the top left of the arrangement, mirroring the glasses on the other side. On top of the bread plate should be the butter knife, which should always lay horizontally and parallel to the dessert utensil.
Get All Your Kitchen & Dining Essentials from Kohl's
And there you have it! Your friends and family are sure to love the extra effort you've put into creating an elegant dining experience. If you're in need of any table setting essentials, Kohl's has a wide assortment of kitchen and dining essentials available in all shapes and sizes, making party hosting a breeze. Get place settings for a formal dinner for 16, a casual luncheon for 8, or an intimate dinner for 2. With Kohl's dinnerware and serveware, you'll find everything you need to host your next gathering.
Make any meal memorable with flatware from Kohl's. Silverware is an everyday essential, and the selections available at Kohl's are sure to suit your style. Explore silverware sets and place settings to suit your studio apartment or big family gatherings where you need enough forks for a small army. Whether you love hammered metal or gold finishes, Kohl's has the beautiful flatware you'll love to use every day.
You'll find all the brands you know and love, like Oneida flatware and Food Network silverware. Explore matching serving ware sets in addition to your daily flatware choice. And not just everyday silverware, but special occasion silver as well: Find wedding silverware in addition to more casual styles. Choose from a variety of finishes, from stainless steel to copper, two-tone and more colorful sets. In order to keep your flatware protected and organized, be sure to shop our selection of silverware caddies as well.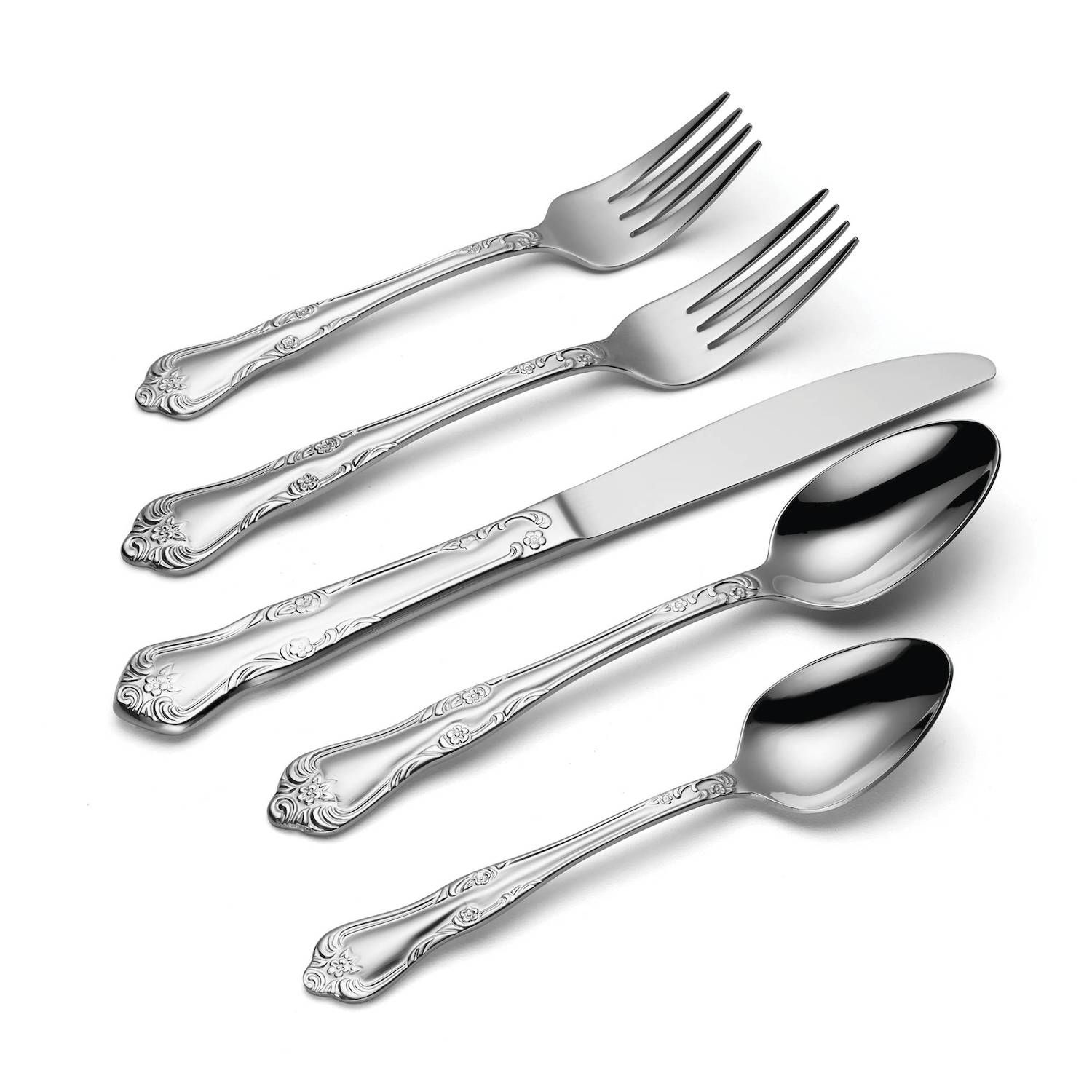 Every at-home chef's collection should include multiple types of knives—from paring and boning knives to bread and carving knives. Having a set of sharp and diverse kitchen knives makes food prep more enjoyable, equipping you with the tools you need to experiment with new recipes. Each type of knife has a specific function that allows you to mince, dice and peel with precision, ease and safety.
Before you start building the perfect collection of kitchen knives, it's important that you understand how they work. Each type of knife differs slightly when it comes to the handle, blade length, thickness, edge shape and tip. Bread knives, for instance, have serrated edges that allow you to gently saw through crusty loaves of bread. However, boning knives have narrow blades to delicately separate meat from the bone. If you're just getting started, look for a multipurpose knife that can be used to cut almost anything, like a chef's knife or utility knife.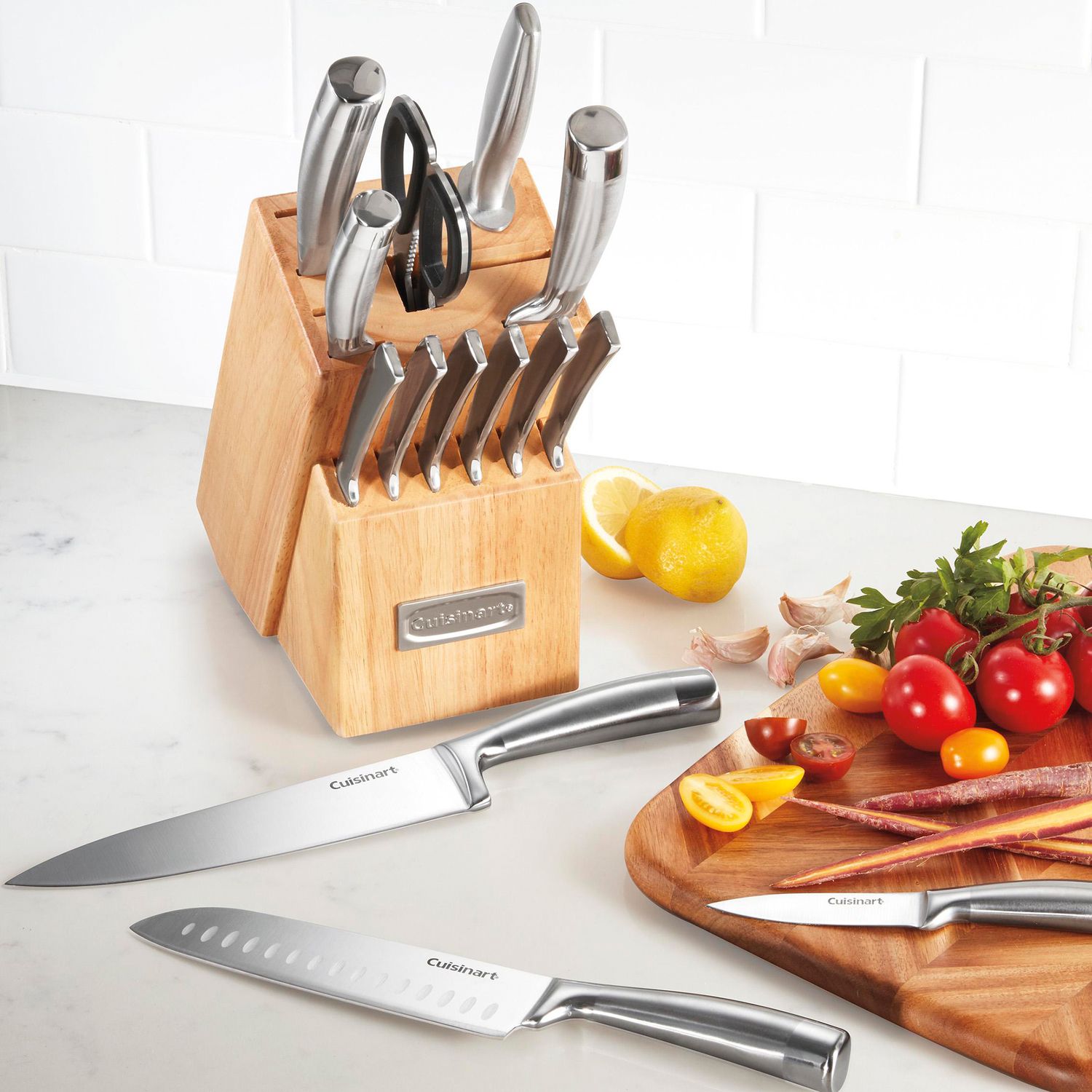 Looking to set your table with a curated dinnerware collection? From serveware like serving platters, trays, bowls and baskets to various styles of dinnerware such as bowls, plates, cake and dessert servers, we've got you covered. Explore dinnerware options from fantastic brands like Picnic Time, Fiesta, Food Network, Rachael Ray and so many more!
The great dinnerware options from these renowned brands include great tabletop trends like farmhouse, floral and tropical. You'll also find serveware in many styles and colors for both casual and formal dining. Be sure to shop for festive holiday dinnerware as well, where you'll find the perfect serving piece for any occasion.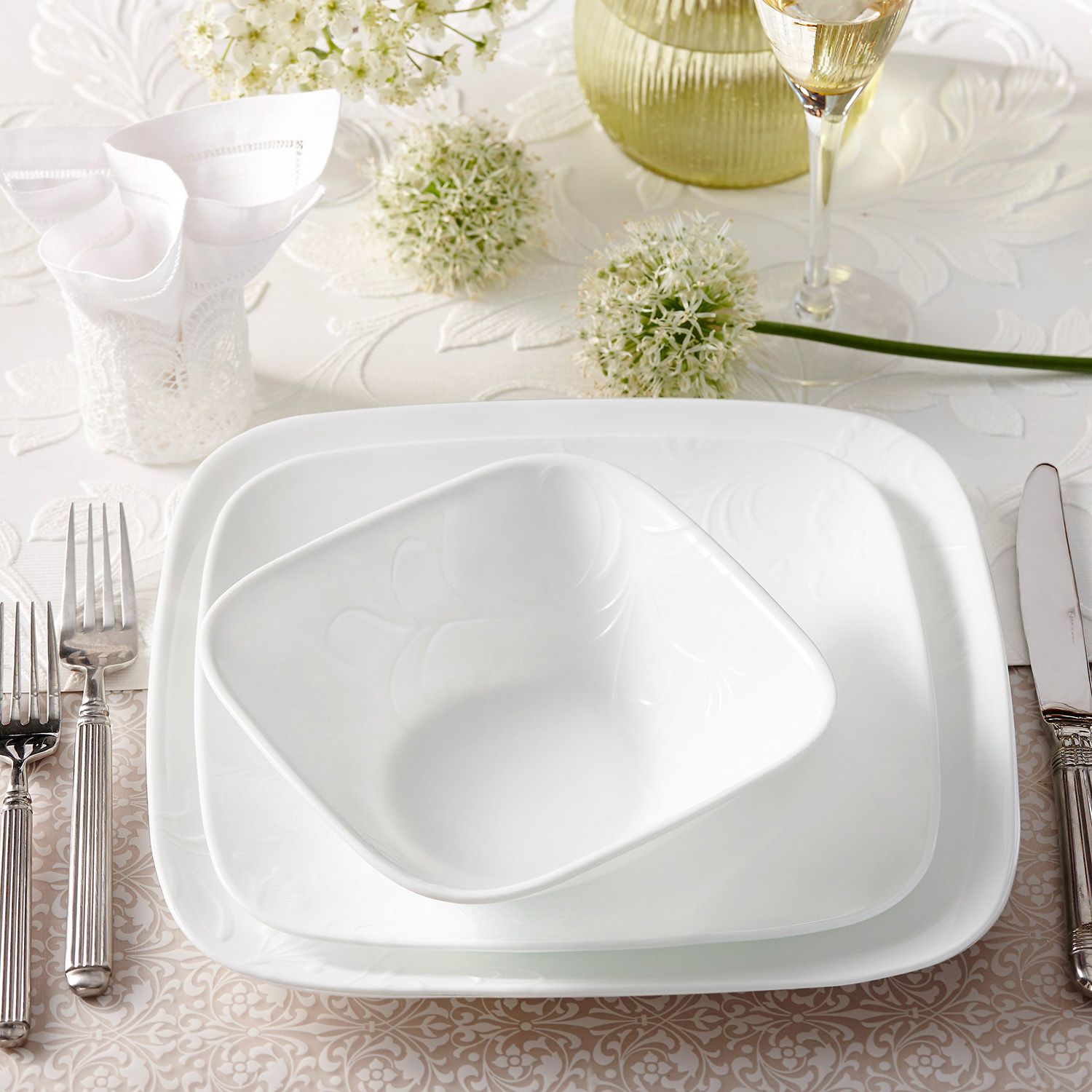 When entertaining guests in your home, be sure to serve beverages in fine glassware. Find everything your home needs, from wine glasses and teacups to shot glasses and delicate stemware. For more on-trend options, check out our assortment of mason jar glasses or copper mule cups. Explore glassware sets that will sparkle on holiday tables.
Now is the perfect time to replace mismatching cocktail glasses with a brand new set perfect for dinner parties or just a girls' night in. If you're planning large parties or simple meals at home, you'll have everything needed to create a memorable dining experience.